Our vision of gating
Today Auburn Sounds is releasing an effect plug-in for its high-quality product line. RENEGATE is a full-band gate that gives you excellent results — in the shortest time.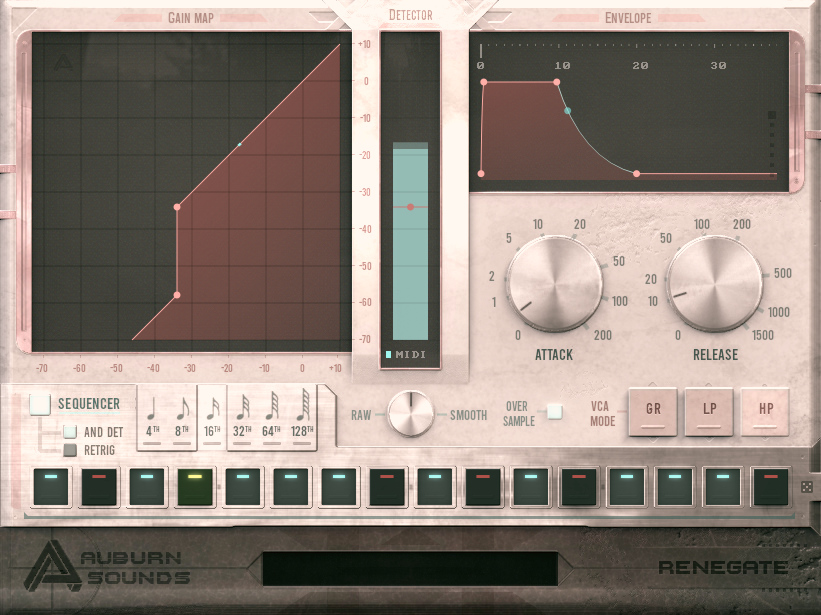 A noise gate isn't necessarily the most exciting type of plug-in for music. But it is an absolute necessity for cleaning-up mixes, and recorded audio.
RENEGATE is our vision of gating: a simple and painless process.
Improved Envelope estimation
At its core, a dynamics plug-in is only as good as the quality of its analysis. Accordingly, we went quite far in that direction with our plug-in COUTURE.

We thought the 2-band design in COUTURE was the best possible envelope estimation at the time. And indeed since 2018 Couture has received praise for its natural sound.
Eventually we realized there was room for a better envelope estimation.
RENEGATE is using a high-Q 43-bands psychoacoustic model instead.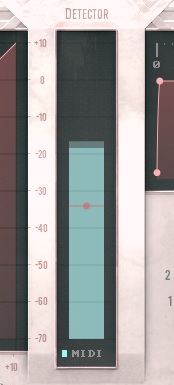 That detector is even more faithful. It's similar to how we perceive loudness. The moment where RENEGATE opens or closes will often be in line with your expectations. RENEGATE is predictable.
Classic Controls
Aside from Threshold, RENEGATE uses the classic Attack, Hold, Release timing controls.

Rather than a Ratio as is usual, we've included a range control (called "Mix"). Mix is the maximum amount of gain reduction.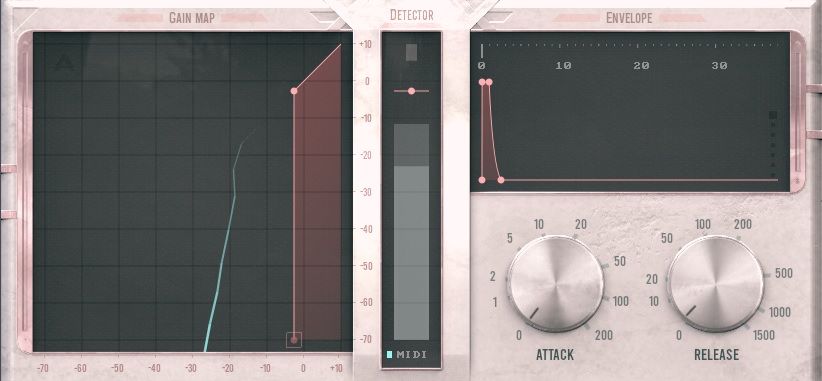 Theoretical ratio versus real gain curve. Actual infinite ratio would sound... disappointing.
Why leave out Ratio? With the Gain Map display, you will realize the ratio effectively applied by a gate depends on the Release timings.
RENEGATE can work as an expander: just control the "ratio" with the Release knob.
Raw vs Smooth (Full only)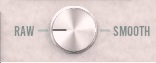 Default operation of RENEGATE is to always stay smooth.
That means auto-release, auto-hysteresis, and some kind of GR smoothing to avoid bad cases.
However at times you'll want to disable the safety features. This is most useful for a brighter, glassy attack sound that popular digital gates have featured.
Alternative VCA modes (Full only)

Renegate features alternative VCA modes:
GR is the normal gain-based transfer function,
LP applies gain reduction by closing a 6 dB/oct lowpass filter,
HP applies gain reduction by closing a 6 dB/oct highpass filter.
Those alternative VCA modes are auto-filters (similar to the Mood parameter in COUTURE).
The possibilities are yet unknown:
LP seems useful for debreathing,
HP seems useful to clean-up bass in a mix bus, and make tracks "pop".
Sequencer (Full only)

The addition of a gate sequencer in RENEGATE brings out a few more possibilities:
Make polyrythms out of percussion tracks,
Using the sequencer instead of sidechaining to solve track interaction (like kick/bass),
Turn a synth pad into a rythmic sequence, retriggering the sequencer at each note,
Upgrade from gated reverb tails to sequenced reverb tails
and more...
We've found it especially useful to solve low-end content interaction: it is a volume shaper.
Available now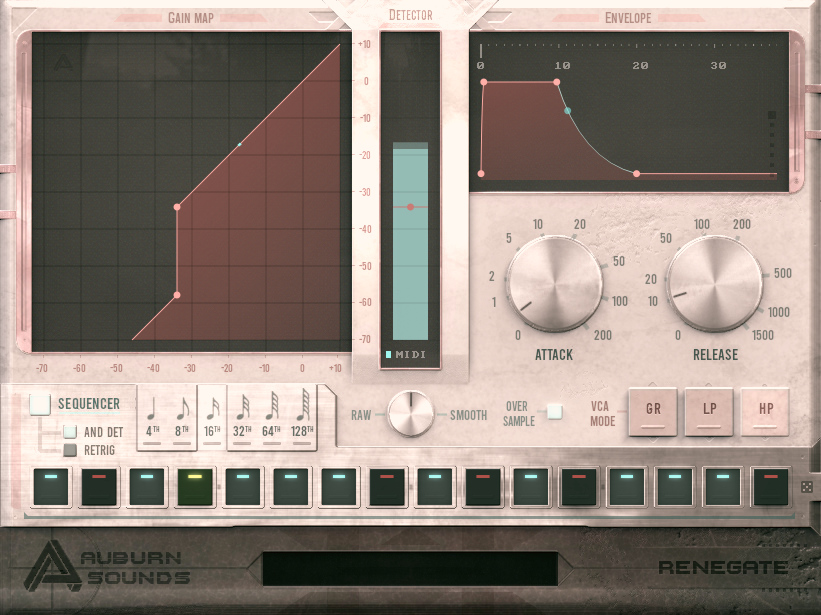 RENEGATE is available as a VST2.4 / VST3 / Audio Unit / AAX / LV2 plug-in for macOS, Linux and Windows. FULL version is priced $29.