―&nbsp Distort v1.0 &nbsp―
Bread and butter saturation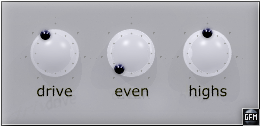 GFM Distort is a bread-and-butter distortion that will find itself at home on every track. Listen to audio examples...
Thanks to its 16x oversampling, GFM Distort is practically devoid of aliasing. Use it on drums, guitar and acid leads to get warmed up!
While GFM Distort is proudly digital, its quirkiness, builtin instability and lowpass post-filter all combine to give an unmistakable 90s feeling.
 Sound samples
Acid test
Open303 processed with GFM Distort.
Distorted lead
In context. A track with many Distort instances.
 Reviews
" Thanks for your plugin. "
Robert Sabarí del Amo
" That distortion sounds really good on drums. "
pytoo06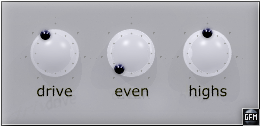 Get it now!
Available as a free Audio Unit and VST2 plug-in for macOS and Windows.
 Download Full Version
 Warning
This plugin is free but unsupported. It won't receive neither support nor updates.