Clean and simple binaural panner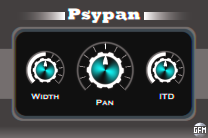 GFM Psypan is a dead simple and effective binaural pan effect. Listen to audio examples...
When listening through headphones it puts the sound out of the head and help making the mix larger and more intrusive.
Thanks to its high quality interpolation, GFM Psypan preserves punch and clarity of even the lowest frequencies.
To provide better control over incoming stereo inputs, a stereo width control has been provided. Inter-aural Time Difference (ITD) can also be tweaked to exaggerate or decrease the delay effect.
 Sound samples
Ear play
Applied on the master bus with a bit of reverb to help the separation effect (listen with headphones).
Escher Beat— The Pirate Song
In context. Psypan can be heard in the intro and also later (listen with headphones).
Swirling lead
Applied on the lead instrument (listen with headphones).
 Reviews
" I wanted to thank you first and foremost for providing the plugins you have made to date for free! You are awesome. I've been using the Psypan lately, it's fucking awesome. "
" Psypan sounds great. "
pboccola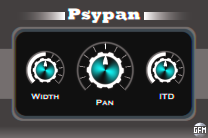 Get it now!
Available as a free Audio Unit and VST2 plug-in for macOS and Windows.
 Download Full Version
 Warning
This plugin is free but unsupported. It won't receive neither support nor updates.