―&nbsp Renegate v1.3 &nbsp―
Smooth workhorse Gate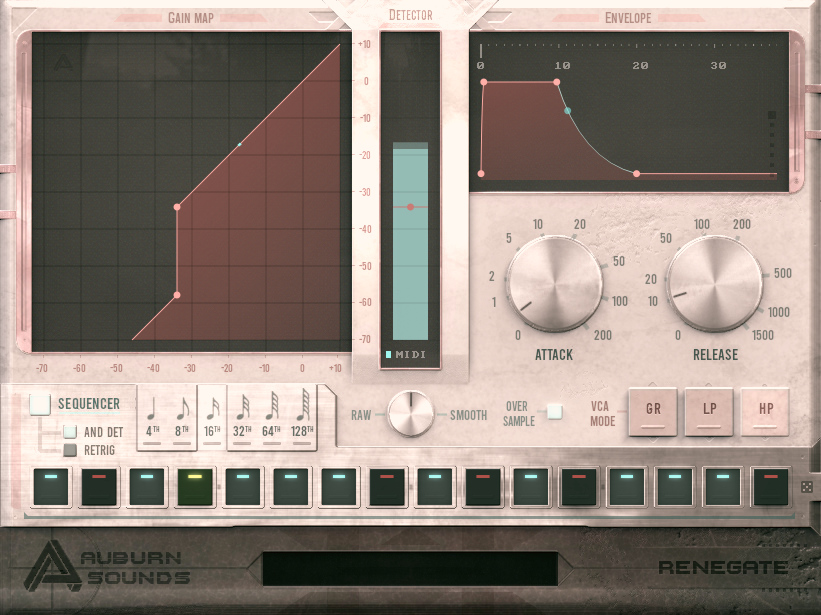 Download VST3 / VST2 / AAX / AU / LV2 plug-in for Windows, macOS, and Linux.
 Free Edition
 Buy Full Edition for

$29

$38.67
What's this?
RENEGATE is simply just a full-band Gate plug-in.
It has an always smooth, natural sound, and is quick to operate.
RENEGATE radically simplifies gating.
But surface-level simplicity is only possible because it's complicated on the inside:
Program-dependent hysteresis automatically captures the desired phenomenon.
Builtin Look-Ahead lets you hit the transient 100% of the time.
Program-Dependent Auto-Release
Expensive 43 bands psychoacoustic auditory model for State-of-the-Art envelope detection.
Such a refined but quick gating experience is for free, in RENEGATE FREE.
RENEGATE FULL also features:
Alternative ways to apply Gain Reduction, namely with a 1-pole lowpass or highpass (Full Edition only)
Oversampling (Full Edition only)
Built-in Sequencer (Full Edition only)
Raw knob to get back digital grit if needed (Full Edition only)
That all makes RENEGATE a workhorse plug-in for all your creative (or boring) gating needs.
 Sound samples
Alternative VCA Modes
Dry:
Wet:
The LP mode is especially effective for debreathing.
One Renegate instance is used before other vocal plug-ins.
Builtin Sequencer
Dry:
Wet:
Giving the illusion of a programmed sequence with the RETRIG and SEQ+DET parameters.
One Renegate instance is used on the lead track after Panagement.
 How to use it?
 Reviews
" I'm a gate junky. I admit it. It's weird, but it's true. I love gates.

This gate is fantastic. Just tried the demo, on the snare of a tune I'm producing featuring drums played by the mighty Kenny Aronoff (relevant because he's well-known to hit his backbeats hard. very, VERY hard), and it tracked his VERY wide dynamics (teeny ghost notes all the way up to his MASSIVE 2s and 4s) with ease. Way better than my go-to for broadband gating for years. Immediately bought the full version, can't wait to dig into the filtered gating. Thanks, Auburn! "
" Very smooth and easy to set up courtesy of the informative UI. "
" Renegate is once again a beautiful offering from Auburn Sounds, which clearly is a brand that makes no missteps. 9/10 "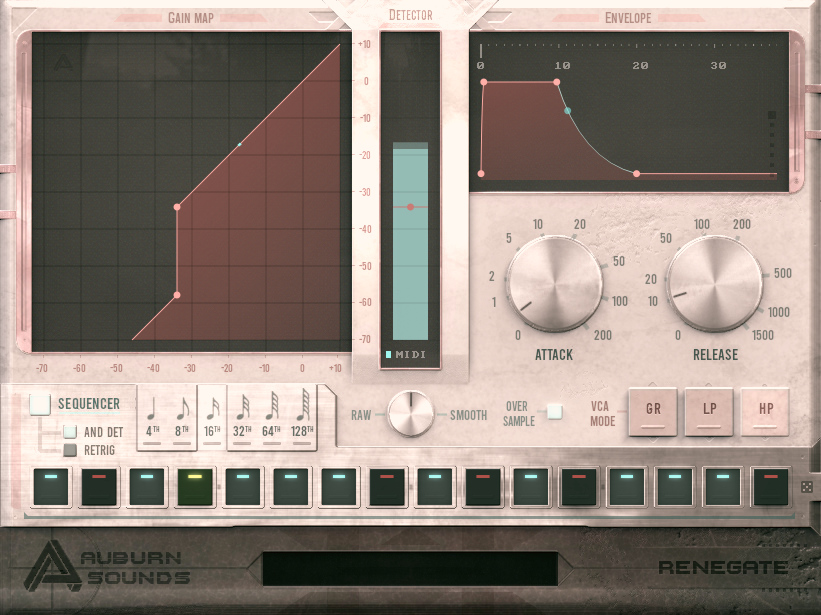 Get it now!

Download VST3 / VST2 / AAX / AU / LV2 plug-in for Windows, macOS, and Linux.
 Free Edition
 Buy Full Edition for

$29

$38.67