Our best plug-in so far
Auburn Sounds is proud to release Lens, a Mixing and Mastering plug-in for its high-end effects product line. Reading time = 2 min.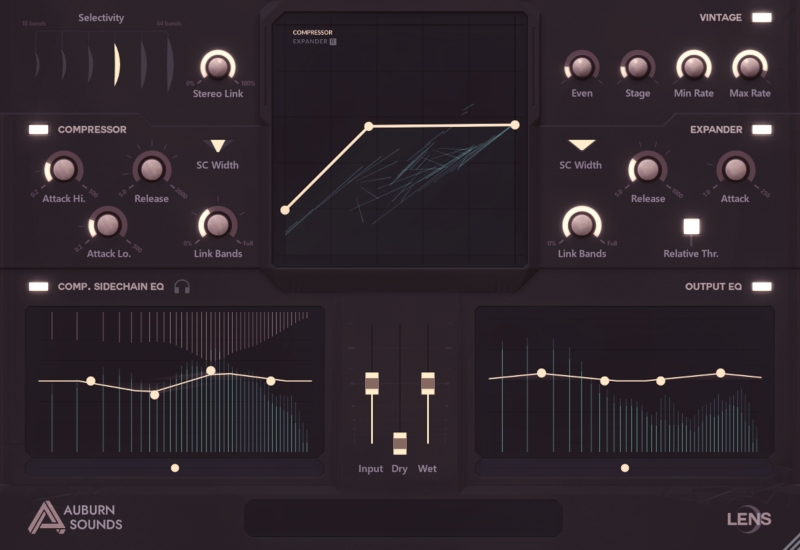 Lens is a multi-band compander and automatic equalizer with unbelievable sonic results.
Who doesn't want clear, detailed, and punchy mixes that do more with less headroom? Lens makes that more accessible than ever.
Auto-equalization exposed
Lens is an automatic balancer in the clothes of a compressor.
You have access to threshold, ratio, attack and release, and can link Gain Reduction across the bands .
Like other products in that niche, Lens removes some resonances and makes everything sound a bit better.
While it was designed for the master bus first, Lens' radical personnality makes it useful also at the recording and mixing stages.
Two mirrored EQ
Lens is designed around being spectral.
There is a cost for using Lens:
A High CPU usage,
Constant phase to pay,
Latency (54ms)
Yet after paying that cost, equalizing in the spectral domain comes for free.
So we added both a sidechain equalizer and an output equalizer.
This gives maximum flexibility upon the spectral profile you desire, the default one being a generic psychoacoustic curve.
Both EQs can be manipulated at once to decide between compression and static equalization.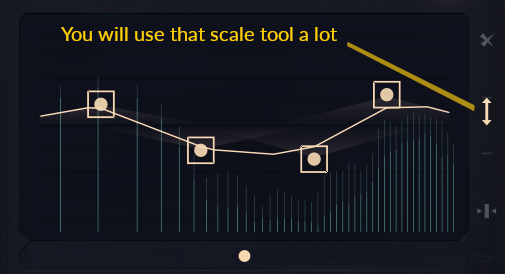 Warning: it is very easy to go overboard with the Lens EQs. Select points and use the scale tool to double-check your decisions.
Why no auto-gain?
With our previous plug-in Couture, Auburn Sounds made a very well compensated plug-in, with perfect auto-gain.
However, as we discovered later, the goal when instantiating a transient shaper is often to independently set volume for attacks and sustains. Changing the volume of the attack while the user is setting the sustain volume doesn't necessarily makes sense.
With the Lens compressor you can independently set volume of:
loud sounds,
soft sounds,
and sounds at the threshold level
Adding an auto-gain instead would couple their volume, and that is out of question.
For those that still want a constant volume setting, you can right-click the Input slider to set compression amount in a gain-compensated manner.
TIP: Right-clicking on a Threshold point changes both Ratio and Threshold at the same time: you can change the volume of sounds at the threshold level without affecting the louder and softer sounds. We believe this to be a refreshing way to setup a compressor/expander.
Expander (Full only)
You have perfectly balanced and compressed your track/mix. But things might still be a bit muddy.
With the Lens expander, you can get a few percent additional punch and headroom.
The expander threshold can also be relative to the local energy, in order to simplify the song message.
Lastly, you can also remove some background noise with the expander section.
Clean Over The Top
Lens doesn't have upwards-compression per se.
However you can get something cleaner that approaches that with parallel compression.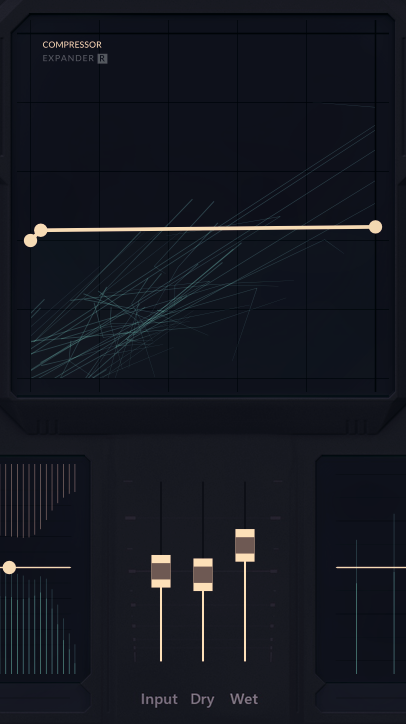 Lens gives you "Over The Top" upwards compression (through this parallel way), with many bands and no crossovers. We believe that is only available in Lens as we speak.
The Lens sound
It's easy to speak about features, but true essentials lie in the basics. Why does Lens sound so good?
Lens spectral transform is our most complex achievement so far. This is what makes Lens unique. For example, it is highly advised to try fast release timings in the compressor.
Lens will impart its smooth, spherical glue anywhere you puts it, however it is less successful when applied in series: the constant phase shift add up.
Available now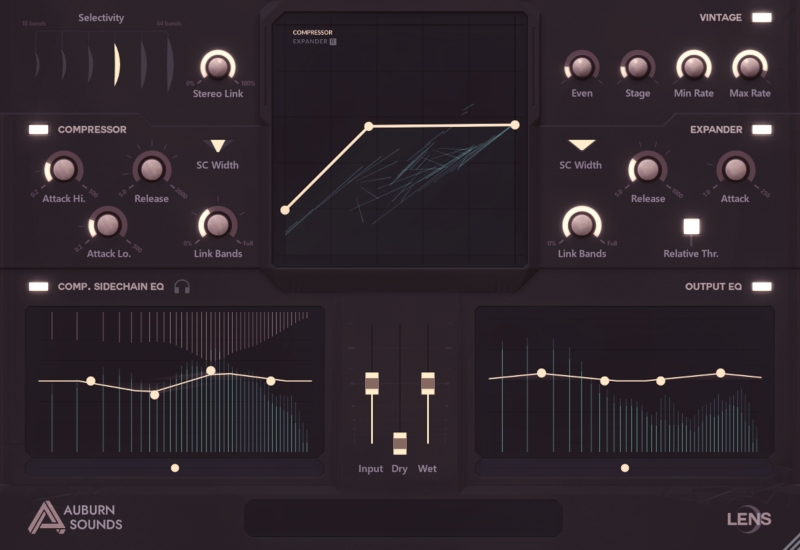 LENS is available as a VST2.4 / VST3 / Audio Unit / AAX / LV2 plug-in for macOS, Linux and Windows. FULL version is priced $105, but is available at $49.35 until 20th September 2022.